We have always loved the outdoor life, trail running, mountain biking and hiking, as well as practicing yoga for a number of years. Through our work and lifestyle choices we have become very body aware.
Having built up a successful gardening business creating and maintaining beautiful gardens for clients, after several years our bodies started screaming at us to look after them better! We had developed a number of musculo-skeletal & postural problems and we knew something had to change. We practiced yoga daily and knew many of the counterposes that were necessary to keep us mobile, however it didn't seem to be enough.
It was time to look how we moved forward, regain and then maintain our health.
We decided to revisit an experience we had over 10 years ago in Thailand and looked into Thai Yoga Massage.
We needed to fix ourselves and embarked on Thai Yoga Massage training in Chiang Mai, Northern Thailand.
Not only did we fix each other and see a steady improvement in flexibility and posture, but over time we have been able to offer the treatment to other people. We have since returned to Thailand on a number of occasions, to build on our training.
In November 2017 we completed 200hrs of Yoga Teacher Training in Rishikesh , Northern India (the birth place of Yoga).
Yoga compliments Thai Yoga Massage completely as there are many crossovers in both practices. This allows us to confidently empower people with suitable exercises that allow them to continually improve their posture, breathing and release muscle tension, and understand what their body needs to stay healthy, if they wish to learn.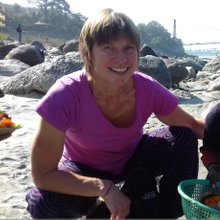 Afer 30 years nursing in different environments with many challenges, a move back home to Lincolnshire eventually led to a change in career. Practicing Thai Yoga massage and Yoga enable me to combine my nursing knowledge with hands-on theraputic techniques to help others.
Having worked in a variety of roles within Public and Corporate sectors, the last area of work involved educating people about a healthy diet and teaching simple recipes to try at home. My personal journey to body awareness and tackling a number of musculo-skeletal issues has led to a great increase in my knowledge of anatomy and how Thai Yoga Massage and Yoga can really aid in self healing.